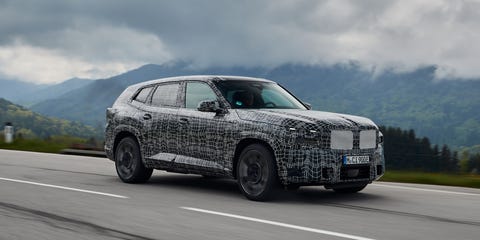 BMW
The 2023 XM, the first M-exclusive model since the M1 supercar of the 1970s, is a luxurious plug-in-hybrid SUV with a palatial back seat. It's not what we were expecting either. But based on our initial drive of a development prototype in Austria, it's surprisingly good.
Read the full review
1 of 21
The 2023 BMW XM will be formally revealed in September before going on sale early next year.
2 of 21
Pricing will start well in excess of $100,000, with top models possibly approaching $200K.
3 of 21
The production XM will closely adhere to the controversial design of the recent XM concept.
4 of 21
As a plug-in hybrid, the XM features a twin-turbo 4.4-liter V-8, an eight-speed automatic transmission, and an electric motor sandwiched between the two. A lithium-ion battery pack is situated under the back seat.
5 of 21
The prototype we drove had a combined output of 644 horsepower, but BMW promises a more powerful variant also will be offered with closer to 750 horses.
6 of 21
Electric-only range is rated at 50 miles in Europe's generous WLTP cycle. Expect slightly less under EPA testing methodology.
7 of 21
Despite being suspended by relatively simple steel coil springs, the XM features adaptive dampers, 48-volt active anti-roll bars, and rear-wheel steering.
8 of 21
Although the two-row XM's closest BMW relatives are the X5 M and X6 M, its length and wheelbase are closer to those of the larger three-row X7.
9 of 21
While the XM eschews outright performance for a commendable balance of ride and handling, its steering is wonderfully linear and tactile, making it an enjoyable driver's machine.
10 of 21
Other than an expansive curved dash display running BMW's latest iDrive infotainment software, the only other interior highlight we could discern in the prototype was its spacious and very comfortable back seat.
Advertisement – Continue Reading Below
This content is created and maintained by a third party, and imported onto this page to help users provide their email addresses. You may be able to find more information about this and similar content at piano.io