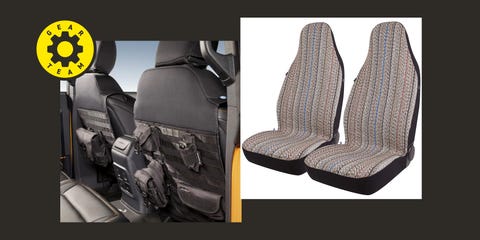 Ford, Amazon
The highly anticipated Ford Bronco is proving to be one of the most desirable vehicles on the market today, as wait times to get your own can range from six months to a year. Once you do get your hands on one, you'll want to protect the interior from all your adventuring hitchhikers, like bits of dirt and grime. Seat covers are a great way to do this, and paired with a set of good floor mats, cleaning your Bronco will be easy-peasy.
Choosing a set of seat covers can be tricky, however, as there are many variables to consider. First, make sure the covers fit your exact Bronco model. Next, choose the material that best suits your needs. Finally, if you can, choose the best color to match your boxy baby, and get 'em shipped!
To help you decide which Ford Bronco seat cover is right for you, we combed the interweb and found some top-rated choices. They vary in material, style, and price—but all boast stellar reviews. So treat your new off-road steed to some durable, good-looking Ford Bronco seat covers.
Deal Alert: Portable Fridge/Freezer Is $300 Off
---
Advertisement – Continue Reading Below
Carhartt's seat covers are some of the most durable on the market, and these duck-weave covers are a classic look. They're water-resistant, UV treated to prevent fading, and machine washable. This set just features covers for the front row, but rear-row covers are also available.
2
"I Can't Believe It's Not Leather" Seat Covers
These faux leather seat coves from CalTrend are claimed to look and feel like real leather, but are cheaper and easier to maintain. If tan isn't your style, there are eight different colors to choose from.
3
Neoprene Seat Covers for 21-22 Ford Bronco | 4-Door
Rough Country is another leading brand in the seat-cover market, and these neoprene covers bring that reputation to the Bronco. The four-layer construction brings wetsuit tech, along with comfort and durability, to the interior of the Bronco . This set comes with two front-seat covers and a rear-seat cover.
4
Mossy Oak Camo Seat Covers
Another Carhartt product makes this list. These Mossy Oak seat covers are likely to match the taste of hunters and other outdoorsy folk who like the camo look. They're treated to be water repellent and have triple-stitched seams to keep your seats dry.
We all know WeatherTech products and their ability to keep your vehicle floors clean, but they also make a good seat cover. Regarded as one of the better choices for pet owners, the strong poly-cotton construction and water-repellent treatment will keep animal messes from getting into your seats.
6
Baja Blanket Bucket Seat Cover
It doesn't get much more nostalgic than a Baja blanket on a bench seat. Sadly, the new Bronco lacks this feature up front, so we'll have to make do with a pair of universal bucket seat covers that boast that iconic style.
7
Towel-Style Seat Protector
For something super quick and easy at the expense of fitment, a towel-style seat protector is a great way to go. They're perfect for a quick drive after working out or taking your dog to the park. This one lacks a strap to hold it in place, so you will need to readjust the cover after sitting down.
8
Bronco 4Dr Coverking Neoprene Front Seat Covers
If you want to go the OEM route, Ford does offer some seat covers for the four-door Bronco. The dual-layer construction features waterproof neoprene and a water-resistant Neotex outer shell to protect your Bronco's seats from just about anything.
This content is created and maintained by a third party, and imported onto this page to help users provide their email addresses. You may be able to find more information about this and similar content at piano.io
Advertisement – Continue Reading Below