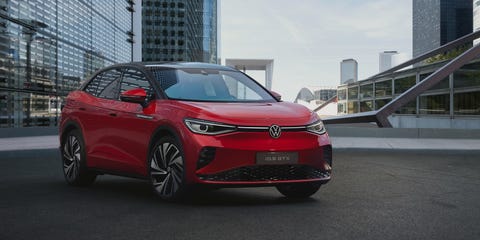 Volkswagen
In an attempt to flesh out its lineup with more EVs, Volkswagen is adding a "coupe" version of the ID.4, which takes the ID.5 designation.
Read the full review
1 of 17
The Volkswagen ID.5 is the upscale sibling to the ID.4 electric crossover.
2 of 17
The ID.5 is intended to be more stylish, but its front-end appearance is nearly identical.
3 of 17
The ID.5 has a slightly more curvaceous roofline than the ID.4.
4 of 17
Shown here in top-spec GTX trim, the ID.5 features a rear spoiler.
5 of 17
The ID.5 GTX is powered by front and rear electric motors that make a combined 295 horsepower.
6 of 17
Powering the ID.5 is a 77.0-kWh battery pack, same as in the ID.4.
7 of 17
The ID.5 dashboard is lifted directly from the ID.4
8 of 17
Blue upholstered insets on the door panels help liven up the interior of the GTX.
9 of 17
The ID.5 features a 12-inch touchscreen along with an overload of touch controls including a touch slider for system volume.
10 of 17
The ID.5 is going on in Europe, but currently, there are no plans to bring it to the United States.
Advertisement – Continue Reading Below
This content is created and maintained by a third party, and imported onto this page to help users provide their email addresses. You may be able to find more information about this and similar content at piano.io