No, that's not a changed number: the new Koenigsegg Jesko Absolut should really go 531 km/h – at least in theory. However, it will probably take quite a while for that to happen. But progress is being made: about a year after the Jesko Attack pre-series model, the first roadworthy prototype of the Koenigsegg Jesko Absolut is now ready. The fastest (theoretically) car in the world is driving!
In 2019 Koenigsegg presented a completely new model in Geneva with Jesko. The 1600 hp hyper sports car is named after Jesko von Koenigsegg, father of company founder Christian von Koenigsegg.
It is offered in two versions: The Jesko Attack, which costs at least 2.8 million euros and has a distinctive boomerang rear wing, aimed primarily at performing on the race track, while the Jesko Absolut, which is even more expensive at 3.45 million euros. , has only one goal: top speed!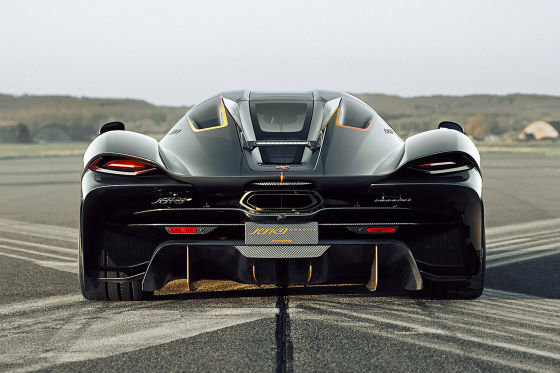 Both variants are powered by a self-developed 5.0-liter twin-turbo V8 engine. With normal gasoline, the V8 makes 1280 hp at a boost pressure of 1.7 bar, with 2.2 bar and E85 fuel should be 1600 hp and 1500 Nm. Power is only sent to the rear wheels via a special nine-speed LST gearbox (LST stands for Light Speed ​​​​Transmission).
Highlights: the transmission can downshift multiple gears at once without delay, with each gear being skipped. The 1,320-kilo Jesko is designed for the race track, and you can tell by looking at it – mainly because of the robust rear spoiler.
Aerodynamics is the key to success

Jesko Absolut is completely different: Compared to Jesko Attack in the catchy "Tang Orange Pearl" color, the high-speed version in "Graphite Grey" with subtle orange accents looks more aggressive. Koenigsegg promised that the Jesko Absolut would be the fastest Koenigsegg ever – and will remain so, as they have no plans to release a faster model.
The engine and transmission are identical to the regular Jesko. The key to top speed lies in aerodynamics; and that's where the engineers started to make Absolute as simple as possible.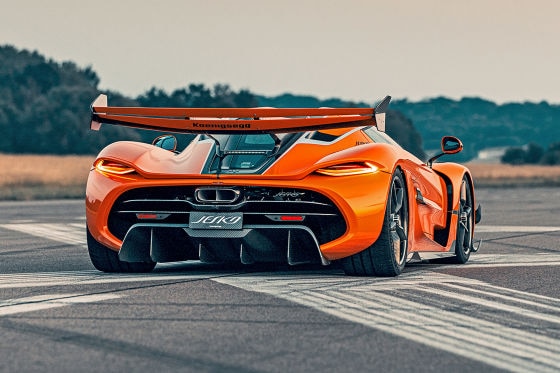 The most striking thing is of course the missing rear spoiler compared to the normal version. In contrast, two fins – like a fighter jet – must ensure stability at high speeds. In addition, Absolut has rims with aerodiscs on the rear axle.
To reduce the last few km/h, the grille on the front fender was removed and the air inlet on the front hood was closed.
What's hard to see in the pictures: At 4.85 meters, the Jesko Absolut is about nine centimeters longer than the normal Jesko at 4.76 meters, which benefits driving stability at 400 km/h+. At the same time, curb weight can be further reduced, so the 1600 hp Absolut weighs in at just 1,290 kilos of curb weight.
Jesko Absolute with a drag coefficient of 0.278
Due to the improved aerodynamics, it should be much faster than Jesko Attack. Some interesting figures on downforce: While the Jesko Attack with its XXL wing produces 800 kilograms at 250 km/h and a maximum of 1400 kilograms of downforce, the slim Absolut is said to produce only 40 kilograms and a maximum of 150 kilograms of downforce. at a speed of 250 km/h.
Koenigsegg set the air resistance as 0.278 very good. To achieve this value thousands of hours of simulation work are required.
The first ready-to-use Jesko Absolute is now ready to use. Koenigsegg test driver Markus Lundh reports after the first few drives that this 1600 hp hyper sports car can be driven naturally and precisely as it should. Everything happens faster thanks to smooth upshifts and downshifts.

According to calculations, more than 500 km/h should be possible

But how fast is Jesko Absolut driving now? Officially, Koenigsegg said so far: "If we look at our advanced calculations and simulations, it is very fast!"
Fortunately, our colleagues from "Road and Track" asked Christian von Koenigsegg again and got a concrete number. The answer: 330 mph That's the equivalent of 531 km/h!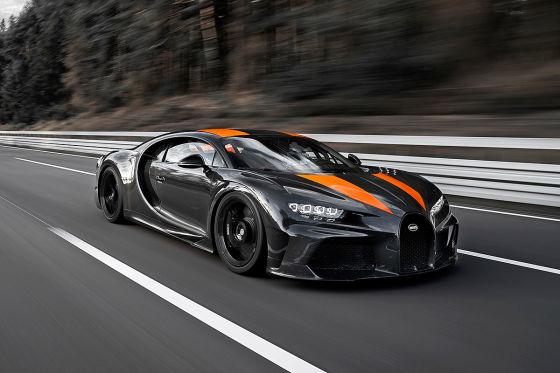 But now there's a problem: Koenigsegg doesn't yet know where this record can be set. The track in the Nevada desert where Sweden broke the previous record with the Agera RS was not smooth enough for speeds of 500 km/h or more. Many other routes are too short, as the last few km/h can be very long.
Where should the record be set?

The VW Ehra-Lessien high-speed track would be perfect. However, Koenigsegg currently does not have such a test track – and it would be even more surprising if Volkswagen allowed its rival Koenigsegg to try the record at Ehra-Lessien. It remains to be seen whether the Jesko Absolut will actually break the 500 km/h magic mark and bring Bugatti back from the throne of the world's fastest production car.