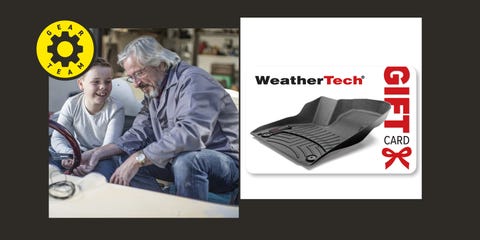 Getty / WeatherTech
Dads are hard enough to buy gifts for, but auto-enthusiast dads take the cake. Buying for them is impossible. Car-loving dads already have every tool imaginable. They've got garages, workshops, and closets piled high with stuff, and they know what each and every item is and what it's for. So what to do? This year, give your car-fanatic dad what he really wants—a gift card to his favorite automotive retailer, so Dad can buy whatever the heck he knows he wants or needs.
Gift cards are the best gift ever for dads. When you give a gift card to a dad, no one gives you that look of polite (but never-ending) disappointment, and no one feels like they wasted their hard-earned money on an ungrateful codger who's impossible to please. It's a win-win.
We kid, we kid. We love our dads, and we know they love their cars. But they really are hard to shop for. What do you get the man who has everything—except for that one particular doohickey he really needs? Here are nine great automotive gifts cards that any car-loving dad will appreciate this Father's Day.
Father's Day Gift Guide for Car-Loving Dads
---
Advertisement – Continue Reading Below
1
For True Auto-Enthusiast Dads
WeatherTech
Help Dad protect his investment with a gift card from WeatherTech. From floor mats to cargo liners to cup holders with cellphone mounts, WeatherTech is No. 1 for a reason. You can't go wrong here!
Advance Auto Parts
With nationwide storefronts, a complete online retail experience, and a vast selection of automotive parts, tools, and accessories, a gift card from Advance Auto makes a great Father's Day gift for car-loving dads.
3
For the Thrifty or Particular Dad
eBay
Almost any part, tool, gizmo, or device for almost any vehicle is available at eBay Motors, so an eBay gift card would make a great Father's Day gift. Right? Unfortunately, official eBay gift cards are not yet available direct from eBay. While you can find them in stores, here's a handy workaround: You can also get them—and thousands of others—at GiftCards.com.
4
For Do-It-Yourself Dads
AutoZone
Get Dad in the zone this Father's Day! With this handy gift card your favorite car-enthusiast dad can buy thousands of items, either online or in any AutoZone store in the U.S. and Puerto Rico.
5
For the Dad Who Likes His Options
Walmart
It's fair to say that Walmart sells everything, from tires and cleaning products to tools and … gift cards! Yep, give that car-loving dad a personalized Walmart gift card for Father's Day this year, and let him buy pretty much anything he damn well pleases.
Amazon
Not to be outdone, Amazon also has zillions of gift cards that make great Father's Day gifts for car-loving dads. Any denomination, any design, any style—even digital gift cards are available.
7
For Home-Improvement Dads
Home Depot
When it comes time to spec out his man cave, Dad will appreciate a gift card from Home Depot. From tools and lighting to shelving and decor, HD is the place to get the goods.
4 Wheel Parts
Dads with Jeeps and Broncos know: 4 Wheel Parts is a great place to get quality, rugged off-road gear for their 4x4s. It's got everything from roll cages to tonneau covers, lighting, and recovery equipment. Make sure Dad checks out the sale and clearance pages!
9
For Dads Who Love Tech & Gadgets
Car Toys
Dashcams, GPS setups, stereo equipment, Apple CarPlay and Android Auto, lighting, alarms, remote starters—Car Toys retail stores across the Western U.S. have it all for the dad who loves to play with gadgets and tech. Unfortunately, we feel compelled to point out that Car Toys gift cards are only valid in-store.
This content is created and maintained by a third party, and imported onto this page to help users provide their email addresses. You may be able to find more information about this and similar content at piano.io
Advertisement – Continue Reading Below