This BMW M3 GT has had six previous owners and more than 320,000 kilometers under its belt. At first it sounds like a rundown place, but over the years around 290,000 euros are said to have gone into maintenance and restoration. The particular model, made only 356 times, is now on sale on eBay. The price is attractive!
For the 1995 model year, BMW presented the M3 GT E36 series as a homologation model for the FIA ​​GT and IMSA series. 350 units will be built, in the end there are exactly 356 units (including five pre-series models) – all in the signature GT color "British Racing Green" (color code 312). In addition to the paintwork, the GT is recognizable by special details such as the front splitter, rear wing, 17-inch forged wheels and white indicators. In the interior, the Munich company gave a special limited model sports seats with a center panel in "Mexico green" and a strip of carbon trim.
M3 GT with 295 instead of 286 hp

But that's not all, because the engine was also revised. The three liter straight-six (S50B30) is equipped with six individual throttle valves and the newly developed camshaft control, or Vanos for short. In addition, the short suction pipe of the 3.2 liter engine (S52B30) of the facelifted model offered from late 1995 has been installed. The result is 295 hp and maximum torque of 323 Nm, while the normal M3 produces 286 hp and 320 Nm. The GT is only available with a five-speed manual transmission with a new base price of 91,000 marks.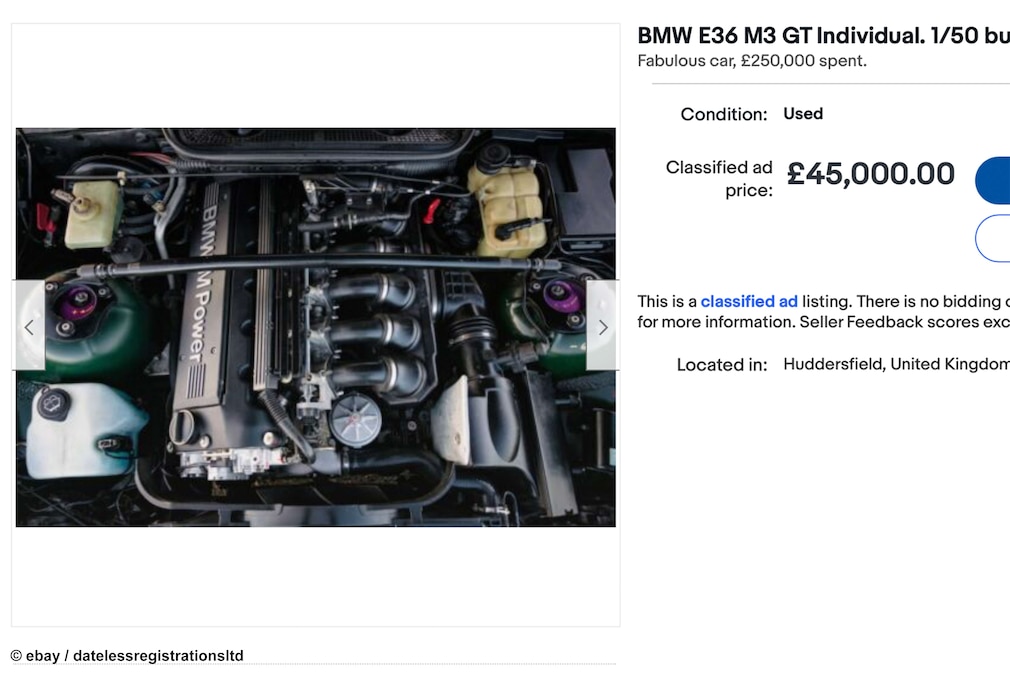 A very special BMW M3 GT is currently being offered on eBay. Among the 356 copies (of which about 80 are said to be in Germany), there are also 50 right-hand drive versions for the UK market. It's a 45/50 number and this M3 has had a busy car life to date.
Over 320,000 kilometers at any time

Despite more than 320,000 mileage (over 200,000 miles) and a total of six owners, the seller promises in the eBay ad that this is one of the best M3 GTs ever. Hard to believe: Since 2005, around 290,000 euros (250,000 pounds sterling) are said to have gone into service and maintenance costs.
Engine revision almost 19,000 euros

The M3 should have two full folders of documents and invoices that came with the sale. Here's a small sample of the work that has been done in recent years: In 2019 the original engine was overhauled at JC Racing in the UK for under 19,000 euros (16,000 British pounds). A performance record of 310 hp (305.5 bhp) is said to be available.
Last year nearly 16,500 euros (14,000 British pounds) was spent on bodywork and cosmetic work, meaning the GT is no longer in its original paint job. The seller also points out that there are still minor signs of wear and tear.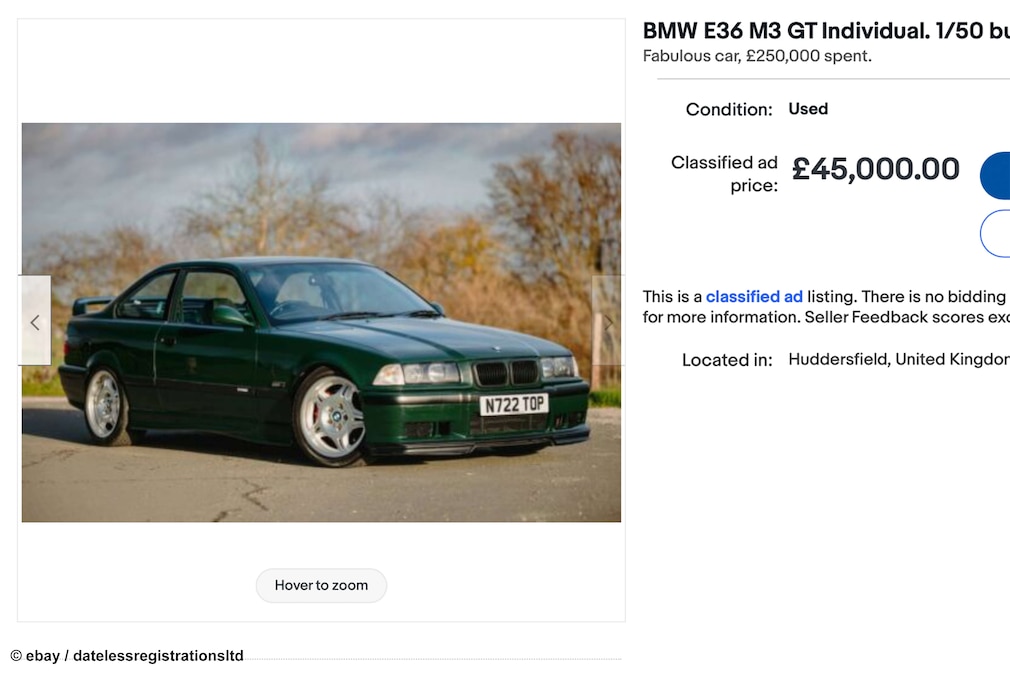 This GT is not for fans of originality, as the fifth owner converted a special model for use on the racetrack a few years ago. The chassis was rebuilt and modified by BMW Schirmer's specialist team for under 12,000 euros (10,000 pounds). Additionally, an AP brake system with four-piston fixed calipers and a Quaife LSD limited-slip differential is installed. The negative points are: The original forged wheels (with BMW Motorsport embossed) are no longer available, as are the carbon trim strips in the interior, the black kidney is installed and the central locking system rotates.
That's for and against this M3 GT

As you can see, despite the alleged exorbitant amount invested in this M3, more than 320,000 kilometers and 27 years left a mark on the car. Viewed carefully, the following facts speak against the M3: high mileage, six previous owners, not in original condition and irrelevant for German customers, it is a right-hand drive.
On the plus side: fully verifiable history, extensive engine revisions, according to the seller, the M3 should drive really well and most importantly, the price! Converted, the GT should cost under 53,000 euros (45,000 British pounds). Even though only 356 were ever made, there was always an M3 GT on sale, and prices have risen sharply in recent years. Meanwhile, they're almost at the M3 CSL level, as typically between 80,000 and 100,000 euros are called for for a used M3 GT.