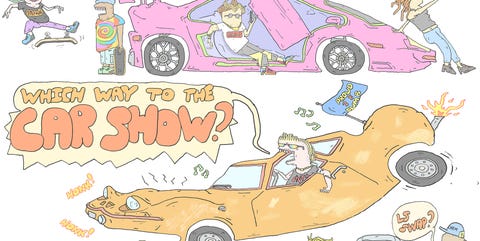 Illustration by Pete SucheskiCar and Driver
From the June 2022 issue of Car and Driver.
Hey, you over there, can you stop revving your engine? We're trying to suggest an LS swap to this lady, and you're drowning us out. She doesn't seem into it, but maybe she just can't hear us.
Car-show season is in full swing, and it's time for a refresher on how to behave. Some things are a matter of taste: Hood open? Hood closed? That's between you and your can of engine degreaser. But loudmouths, bad parkers, and the guy whose burnout gets the whole show banned—don't be that person. Also, those crying-baby dolls? So creepy.
Look, we're not the car-show police, but if you want to be invited back, here are a few things to keep in mind as you back in next to a Lamborghini Countach and a primered Pinto wagon.
1 of 9
Don't like a car? Fine, but keep it to yourself until you're out of earshot.
Stay home, snobs. You already have the Pebble Beach Concours d'Elegance.
2 of 9
Hands off and butts off. Don't touch anyone's car without asking.
Skateboarding is not a crime, but if that board dents my Pacer . . .
3 of 9
It ain't a table. Keep your Thermos off the wing.
4 of 9
Um, your dog is peeing on my tire.
5 of 9
We love V-8s, but no, we don't want to hear it at redline for 10 minutes.
6 of 9
Your Dua Lipa mix at full blast doesn't sound as good as you think layered over the Beach Boys coming from that '57 Chevy.
7 of 9
Those creepy dolls! They don't have faces! Why don't they have faces?
8 of 9
Smokers are jokers, especially the ones who burn rubber near others.
9 of 9
Once more, in case you couldn't hear over the revving and burnouts: No touching.
Advertisement – Continue Reading Below
This content is created and maintained by a third party, and imported onto this page to help users provide their email addresses. You may be able to find more information about this and similar content at piano.io